Phil Jackson Firing May Be on the Horizon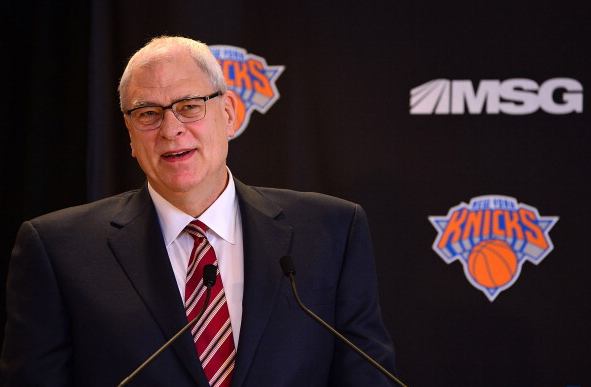 The turmoil inside the Knicks front office might be worse than it looks from the outside. Frustration within the organization has been mounting by the day, and there may be growing internal pressure to fire President of Basketball Operations Phil Jackson, a league source tells the Hoops Inquirer.
Jackson, who has been famously aloof throughout his tenure with the Knicks, has reportedly not spoken to team owner James Dolan in weeks. Relations between the two have grown so icy that when Jackson decided to opt in to the final two years of his five-year contract with the organization, he let Dolan know of his decision via text. Some league executives believe that this sort of erratic behavior is evidence Jackson may be trying to get himself fired from his post. It is possible that the terms of his contract may provide Jackson financial incentive to force his dismissal rather than to hand in his resignation.
This news comes a day after reports surfaced that the Knicks were fielding trade calls for forward Kristaps Porzingis. A source tells Hoops Inquirer that Dolan was enervated by reports that Jackson was entertaining offers for Porzingis and that he would veto any potential trade for the budding star. Dolan sees the young player as the organization's future and its cash cow, and he has no intentions of moving on from him. This means that all the trade rumors that surfaced may have been true in the sense that the Knicks may have been taking calls on Porzingis, but it also makes it unlikely that they were actively shopping him.
---
UPDATE: June 28th, 1:45 am
Dolan may also be upset about Jackson's decision to draft French guard Frank Ntilikina in last week's draft. Sources tell Hoops Inq. that Dolan was a fan of North Carolina State guard Dennis Smith, Jr., who ultimately fell to the Dallas Mavericks. The Mavericks picked ninth in the draft, just one spot after Dolan's Knicks.
Since our report last week, The Vertical has confirmed that the Knicks are indeed considering firing Phil Jackson.
This is still a developing situation, of course, and nothing is definite yet. Keep checking back with the Hoops Inquirer for more details as this story progresses.
---
UPDATE: June 28th, 2:45 am
Phil Jackson has been fired by the New York Knicks, click for more info.
---
Editor's note: This story had contributions from National NBA Writers Nick Martinez and Trey Rodriguez.